[Guide] Bevi Alert Center - Suspected Faulty Touchscreen
Overview
Alerts presented by our Bevi systems give you insight on any current issue preventing the machine from performing at an optimal level. This machine alert will direct you on how to diagnose issues with possible erroneous dispenses and how to troubleshoot and fix them.
Why does this Alert happen?
This alert presents itself when the Bevi touchscreen registers an excessive amount of touches within a 5 minute span. When this happens, it can be an indication that there may be an issue with the touchscreen. In some cases this can cause an unintended dispense. To avoid any erroneous dispensing, the Bevi will throw this alert to prevent a dispense that could possibly overflow the drip tray and cause a spill on the floor.
Note: This alert will only be fired to excessive touches. It will not be fired in the case of dropped touches, when the touchscreen does not register a touch.
Parts Required if it is determined that the Touchscreen is bad:
Standup 2.0 Bevi Touchscreen Part number 720-0109
Standup 1.5 Bevi Touchscreen Part number 540-0004
Countertop - Bevi Touchscreen Part number 540-0012
What if I just clear the Alert?
Clearing the alert will remove the Tuneup message and unblock dispense. However, if there is an unresolved issue with the touchscreen the alert will likely fire again. After the alert is cleared, the software will continue to monitor for excessive touches. If the machine detects too many touches within 5 minutes , the alert will fire again and disable the machine.
Troubleshooting Steps
Clear the Machine Alert

Access the Service Panel and locate the Machine Alerts menu.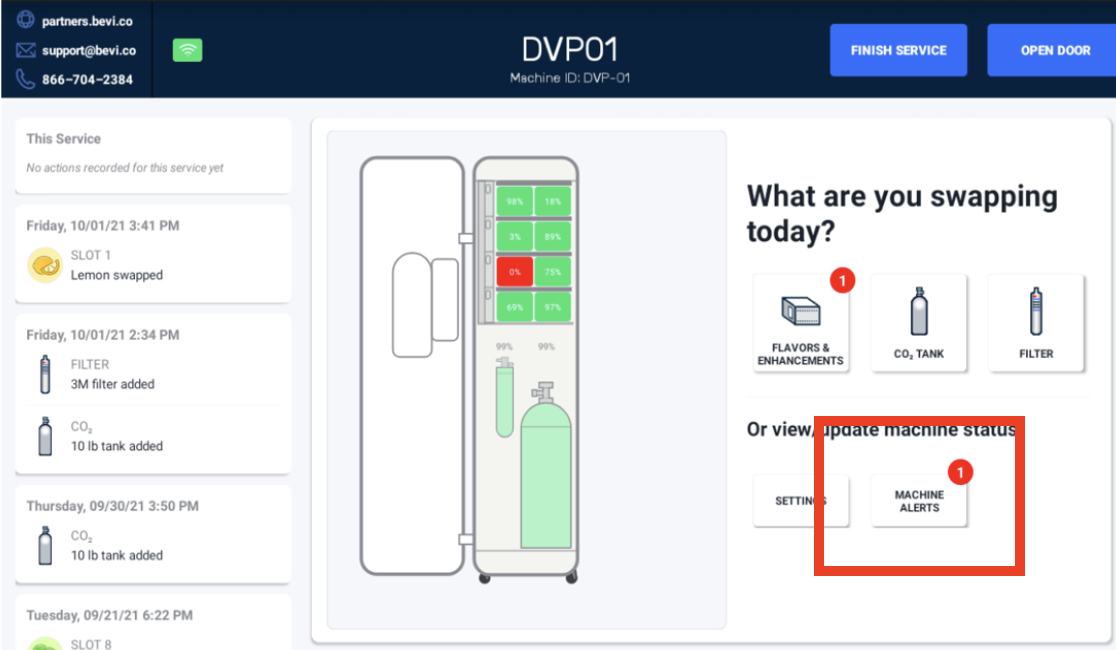 =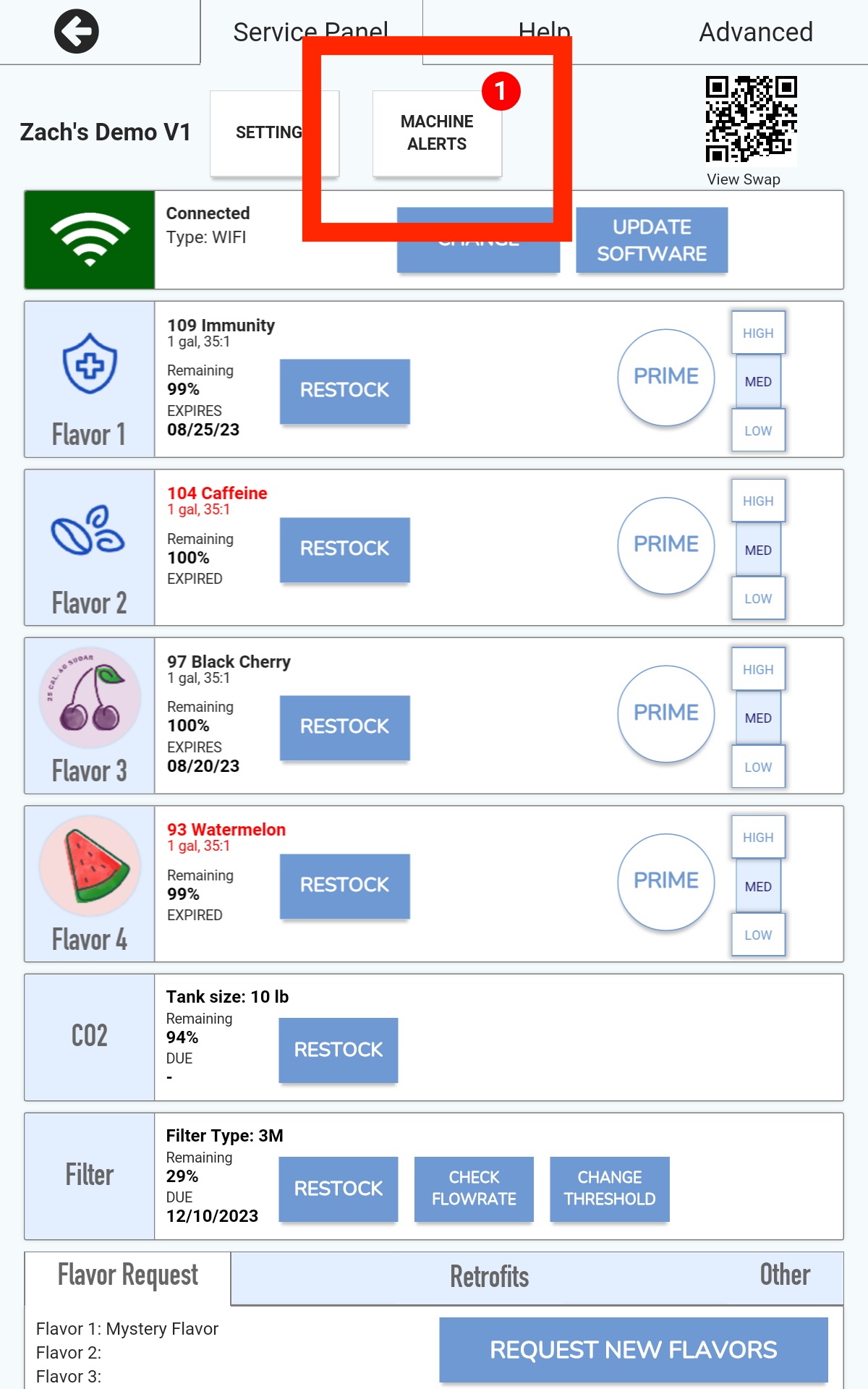 Resolve the alert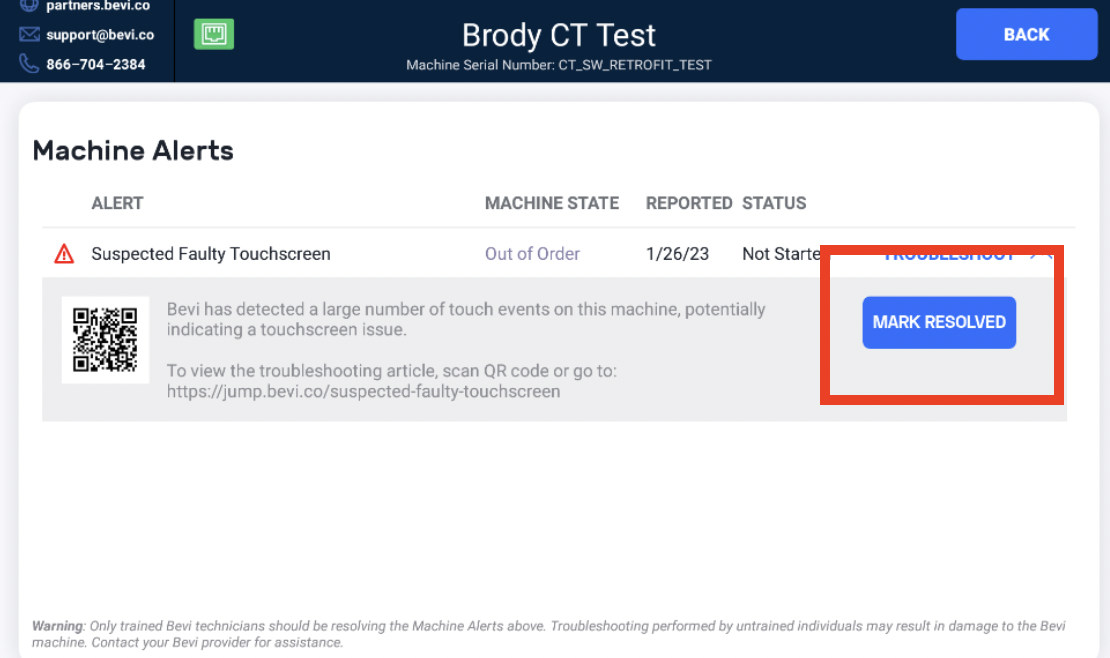 Power off the Bevi and clean the touchscreen

First, be sure there is no protective film present on the touchscreen itself which might be causing this issue. If there is a protective film present, first peel it off.
After the alert is cleared, turn off the Bevi using the power switch on the back of the machine.
Excessive touches can often cause a dirty screen. Buildup of fingerprints, oils, or other residue can cause issues with registering touches on the screen.
Thoroughly clean the screen

To clean the screen we recommend using electronics wipes, 70% isopropyl alcohol, or a mild disinfectant spray on a clean paper towel. Ensure the screen is clean and completely dry.

Once clean and dry, power the Bevi machine on.
Once the machine is powered on, it will continue to monitor for excessive touches.

Test the function of the Bevi to ensure the touchscreen is working properly.
The machine will continue to monitor for excessive touches.
What if the Alert continues to fire?
If the alert continues to fire after working through the troubleshooting steps above, there may be a hardware issue with the touchscreen, and it will need to be replaced. Please contact Bevi Support at 866-704-2384 or support@bevi.co for further assistance.