Background
This document provides guidance on the proper use of the chilling water recirculation lines in the Countertop Bevi unit (700-0008). A number of Bevi countertop machines have been found installed with the recirculation lines disconnected and plugged, as shown in the picture below:
Machines must not operate in this configuration, as it degrades quality of beverages and creates an increased risk of carbonator leaks. Any machine found installed in this manner should immediately be corrected.
Affected Machines
These instructions apply to all Countertop Bevi units. There is an additional Technical Bulletin regarding proper recirculation configuration on Standup Bevi units founded here. Countertop units should be inspected the next time it is visited by a technician for repair or restocking.
How can I tell if a Countertop leak was due to this issue?
Leaks due to this issue may identified by the following characteristics:
They appear to originate from inside the carbonator on the "operator's right" side.
The leak will continue as long as the machine has power, even if the main water supply is turned off or disconnected.
The water level in the ice bank will be low.
There will be a gurgling noise coming from the "operator's right" side of the carbonator that occurs once the ice bank water reaches its minimum level.
Are any additional steps required to correct a leak that has already occurred?
If a machine has developed a leak due to this issue, it can often be corrected by performing the following repair process, and then leaving the machine turned off for at least 12 hours. If the machine continues to leak after being modified and restarted, the carbonator must be replaced and returned for repair. Contact Bevi Support if this is the case.
Time Required: Less than 5 minutes.
Parts Required: No extra tools or additional parts are required.
Process
1. Power off the machine and open the door
2. Find the two ports labeled "RECIRCULATION OUT" and "RECIRCULATION IN".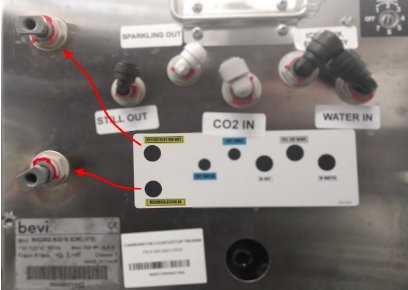 3. Remove and keep the 2 locking clips.
4. Remove and discard the 2 plugs
5. Connect the recirculation lines from the tube bundle to the two ports. NOTE: It does NOT matter which line is connected to which port.
6. Reinstall the two reserved locking clips from step 1.
7. Verify water level in ice bank and refill as necessary.
8. If no leak was present at time of modification the machine can be restarted immediately. If the machine had begun to leak before modification, it should not be restarted for at least 12 hours.